Posted on Aug 01 2010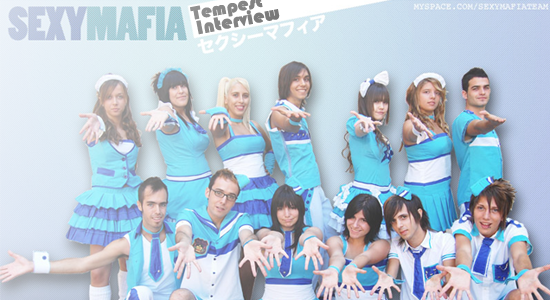 A group of otaku in Spain is living the dream: after forming their own dance group and learning the moves of Morning Musume, Koda Kumi, Perfume and more, the members have achieved a level of worldwide recognition. They perform annually at the Salon del Manga de Barcelona (the biggest anime convention in Spain), they do commercials for this convention and have been featured in television programs ranging from local to NHK in Japan.
As a longtime fan, it was my pleasure to interview senior member Ekuseru. The group was originally founded by Ekuseru, Sayla and a few other members who have since retired from Sexy Mafia.
Please explain Sexy Mafia for people who are not familiar with your group. What do you do? Where do you perform? Why?
Sexy Mafia is just a group of friends. Don't be fooled by the name, that's just a joke. We danced a few years ago at a manga/anime convention, we had fun doing it, and it finally became our common hobby. At the same time, there seem to be people who enjoy watching dance groups perform. I think that may be because it is impossible to get to see our favorite Japanese groups play live in Spain, so that keeps us dancing. Also it's fun to discover how much you can learn in rehearsals — by yourself and with your friends — while we have fun at the same time.
How did the members of Sexy Mafia meet? Did you have to audition to become members of Sexy Mafia?
The Internet was key to the success and continuity of our group. It lead us to meet more people with the same interests, who first became friends and then we started to meet up and decided to expand the group, always thinking of the group as a group of friends, and that's why we don't have to audition or recruit new people. We usually meet people who share the same interests with us and eventually if we feel like expanding the group, they just join us for a period of rehearsals for a performance. If they are happy with the team's work flow they stay. It may be hard to explain and understand how the election of new members works, you just could say, in a nutshell, that we become friends with someone who likes what we do and these friends may eventually join us.
How many members do you have? Is it divided up like Morning Musume, where there are senior dancers and junior dancers?
We've been through many different group formations. Now we're 11, 6 boys and 5 girls. Sometimes for particular dance formations and not very often, we divide the group into senior dancers and junior dancers, as seen in our first long duration show in 2007.
How did Sexy Mafia first get formed? What year did it get formed and who are the founding members?
The group started in 2000. I was, along with Sayla and other three people that are not now in the group, one of the initial or founding members. At first it was just a game we played, copying Morning Musume dance, but eventually it became a common thing to do with friends at conventions, first yearly, then more often.
What is your role in Sexy Mafia?
I'm just a veteran dancer without a particular role assigned, I try to help mainly with website/forums maintenance or anything I can help.
Where in Spain is your practice area?
We all live around the area of Barcelona City. We all gather in Barcelona to practice, in a place we managed to get three hours a week, free of charge in a community center that only asks a bit of our help organizing events from time to time.
Are you fans of anime also, or Japanese music?
Yes, partially. In fact, it all started because of that kind of interest. We discovered J-pop artists thanks to anime music, at first through Spanish manga and anime magazines and then via the Internet. Now not all of us are still very interested in anime, but we all do have various kinds of interests, most of them related to Japan. Let me take this opportunity to say that I'm a big fan of Perfume, a Japanese girl group, and I have a fan page dedicated to them*.
What makes you different from other dance groups?
I think what makes us different from other dance groups is basically that we're mixed boys and girls comprised mostly of friends before we decided to dance. I mean, most of the groups we know are aimed to gather people who like to dance and they basically take that as kind of a job.
How does Sexy Mafia advertise itself? How do you get the opportunity to perform at conventions?
We have two main ways to advertise the group. The first one and most evident is via the Internet: YouTube specifically*. There we can show what we do, just as it is. The other way is by taking part in the conventions themselves, meaning that we all have been at manga/anime conventions since we started performing there as contestants of the cosplay and choreography contest and people started to get interested in what we do. Eventually we were asked to perform at conventions.
Who discovers the songs you eventually perform? What goes into the process of learning these songs and dances?
It's not someone's discovery. We all like Asian music, every one of us prefers a style of music and dance, so we share our music tastes with the rest of the group and if enough people like the same song, we check out if the choreography is too much for our knowledge and limited learning skills, or where we should perform it depending on the song's mood, if it involves a specific style or cosplay. Then we end up finally preparing a version for us, and that involves Sayla arranging the choreography to the number of people dancing.
How often do you practice?
We -theoretically- practice every Friday and when a big performance is coming, we try to find time during the weekends. I say theoretically because most of the time we can't meet all together due to our jobs or school.
Who makes the costumes?
Costumes at the beginning were made by each of us, helping each other with our basic or null sewing knowledge. Eventually, we started perfecting our technique thanks to some of our members who know more about pattern designs and fashion. I could say we now mostly rely on Yaten's helping hand. We all decide how to adapt girl costumes to the group (including boy versions) and then Yaten turns our ideas into a real and wearable costume. It's a lot of work, but as with all the things we do, we put a lot of effort and enthusiasm into it, trying to have a good time at the same time. Also, we can't spend much money on making the costumes, so the fabrics aren't usually the quality we would like.
Who gets chosen to perform at which conventions?
Luckily we don't choose people to perform. We propose songs, then people join the elected songs, then we close the song election and start thinking about the choreography of the song for that number of people who are willing to perform, that's Sayla's job.
Sometimes, if there's a part of the group who would like to perform a specific song with a concrete number of persons, we usually let them perform without interfering in their decision, unless we have the performance time schedule closed. In those cases we leave the performance for the next occasion or we just video record it and upload it to Youtube.
You did a few promotions for Salon del Manga. Were you the special guests at the convention?
That convention, specifically Salon del Manga de Barcelona, is where we did our first public appearance. It's the biggest convention in Spain, and most of us knew each other on previous Salon del Manga de Barcelona editions. After entering and winning Salon del Manga's cosplay/choreography contest three consecutive years, we had the chance to have our own show or longer performance included in the convention's schedule. So we had to promote that event. That was the first time people came to see our performance, separate from the contest. And, surprisingly for us, it was a success. There were people who seemed to like what we did, aside from family and friends who are always supportive.
This year will be our fourth consecutive performance as part of the program in Salon del Manga de Barcelona.
What was your reaction to the Japan All-Stars program you were featured in? How did Japan All-Stars hear about you?
Well, our reaction to the email we got asking for an interview and for a performance recording was a this-must-be-a-joke face. We already were featured in other television programs, but this one was the first one that covered up a full interview and performance for a nationwide Japanese television.
The producers of Japan All-Stars (who are all fantastic and we still keep in touch) heard about us from previous TV appearance on NHK's program and from our Youtube videos.
You were also contestants in Tu si Que Vales (a Spanish talent show along the lines of "America's Got Talent") in January 2008. Can you tell me about that?
That was kind of a sudden decision we took. There was an open casting for a talent-show on a nationwide television and we decided to enter without thinking twice. Surprisingly, they gave us a chance to perform and be judged by three Spanish TV celebrities. Two of them gave us a "no," they said that even though it was original, it was still a copy. But we didn't expect to get even that far, so it was an amazing experience, we really had lots of fun, met nice people and enjoyed our "15 minutes of fame"!
What other programs have you been in?
We appeared on a local TV from Barcelona, "Urbe TV." They had a special program about manga/anime fans or "otaku". They asked us to preferably wear flashy clothes that would attract the public attention so we performed a perfect copy of Morning Musume Otome Gumi's "Ai No Sono – Touch My Heart" song, same costumes and same member formation, making use of the same costumes we used to record a PV.
Are you all professional dancers?
That's a good one! I think that dancing is not my thing. Well I actually think dancing was not meant for all of us, at least for everyone except Sayla, who actually works in a gym teaching aerobics and dance lessons. The rest of us started dancing for fun, and any of us, including Sayla, took dance lessons. All we do is to copy and recreate, but I think that we've learned a lot through all these years. When I started doing this I really didn't imagine I would be still dancing and enjoying it this much. I think that now we can perform in front of hundreds of people and do something decent, but I still can't avoid trembling a bit. I guess that means we're not professional dancers.
Is there anything you want to say to your American fans?
Do we have actual fans? Wow! In that case I just need to say thank you for your support. Really, most of the comments left by American fans in our YouTube account are positive, supportive and nice. I found that many people who support us are actually boys and girls who would like to do the same: to find people near them and start dancing and have fun without thinking about what people say.
Sexy Mafia can be seen performing live at the Salon del Manga de Barcelona, October 27-29. For more information visit: http://www.ficomic.com/original/salonmanga2006/index.html.
Sexy Mafia's Youtube Page: http://www.youtube.com/user/sexymafia3
Sexy Mafia's Homepage: http://www.sexymafia.net/ (in Spanish)
Sexy Mafia's Japanese Blog: http://ameblo.jp/sexymafia (in Japanese)
Ekuseru's Perfume Fan Page: http://perfume.ekuseru.net/