Posted on May 19 2010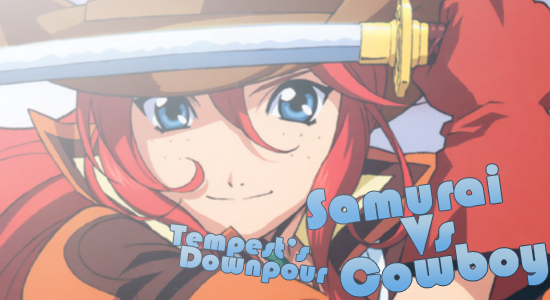 Samurai have been called the "Cowboys of the East." Let's see how they would really go in a head-to-head competition. It's like Pirates vs. Ninjas, only even more epic.
Why cowboys? Because the cowboy era in America began during the continuation (and eventually the end) of the samurai era in Japan. Any form of Japanese entertainment that features cowboys typically takes place in a futuristic setting because Japan never had a cowboy era of its own.
Also, the roles of samurai and cowboys in their societies were not entirely different. Cowboys had a vigilante justice system ("You steal my cattle, and I'll kill you.") while samurai dispensed justice on the streets (they had the right to execute someone on the street if they felt like it). Plus they're viewed in media as being "free to do as they please," although samurai were trained to do anything their lord said without asking questions.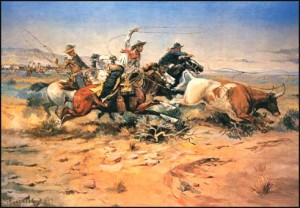 Cowboys rounding up cattle.
The era of the cowboy's open range began around the 1860's following the end of the civil war. Soldiers sought work, so they traveled west and became ranch hands, or "cowboys." This era ended around 1890 with the introduction of barbed wire fences and meat packing plants moved closer to the ranches, making long cattle drives unnecessary.
The samurai era ended in 1868 because of a government manifesto that insisted on Westernization. It became illegal to carry a katana in public, the samurai weren't paid through tax money and weren't allowed to execute people. In 1877 a group of samurai rose up against the government in the Satsuma domain, and were squashed by the "modern army" (which was the subject of the movie The Last Samurai).
For simplicity's sake, I'm going to have this battle take place in 1866, before the end of the samurai era, and after the start of the cowboy era. The cowboy will have a six-shot revolver and a knife while the samurai will have a katana, wakizashi, bow, arrows and armor, however the armor is not bullet-proof. The cowboy has one long-range weapon and one short-range while the samurai's katana and wakizashi are short-range, and the bow and arrows are not nearly as powerful as a gun.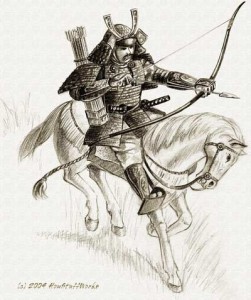 A samurai wielding a bow and arrow.
The samurai was a trained warrior class where people were born into a position of nobility. They were trained to die honorably in battle for their lords. They also enjoyed poetry, philosophy and a nice, rounded education. Cowboys, while not the gunslingers we think of when we see Hollywood films, were trained to herd cattle, ride horses, and fight off bears, wolves and thieves. They had a mindset to guard themselves against one another, because they didn't know who they could trust out on the ranch.
Samurai were pack animals and worked well in organized groups. Cowboys were very much out for themselves and did not work well with one another. The samurai could retrieve arrows that missed their targets, while spent bullets are no longer usable. Therefore, in a group battle the cowboys with very good aim might take down one or two samurai each, but the samurai group would eventually advance and take down the cowboys. The cowboys wouldn't have the chance to reload.
However, in a one-on-one battle, the samurai's chances are considerably lower, even with a long-range weapon, the adrenaline and mindset of giving his life for his lord's ideals. The cowboy's gun has a much faster draw and is far more accurate than the samurai's bow and arrows. The cowboy doesn't necessarily follow an honor code, so he may have no qualms about shooting the samurai before he could draw his sword or set his bow.
But if a ninja came down and sliced the cowboy's neck while the samurai's back was turned, that would be epic. Therefore, a single samurai would totally win against a cowboy if ninjas are involved. Just keep the pirates at bay.
Sources:
Various wikipedia articles on samurai, cowboys, gunslingers, the Meiji Era, and pistols.
Huge thanks to Clorista for all her history knowledge and for being a HUGE help in this article. Big thanks to Azure Serenity for correcting us about the arrows.
(Sorry for the lack of proper citation, guys. I'm going to assume you all don't care.)