Posted on Jul 03 2010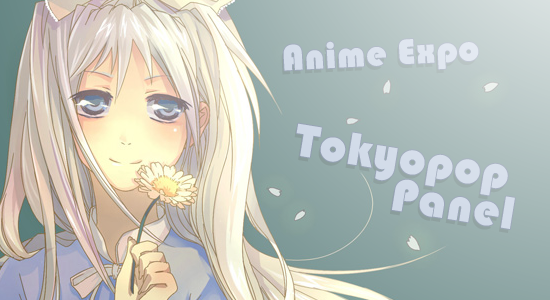 Elc is back with more announcements from Anime Expo. This time, he lurked around a bit in the panel held for Tokyopop to learn exactly what it is they're plotting in the near future. Don't just stare at that pretty banner, have a look over what went down!
Since Tokyopop is a manga publisher, they obviously had to have some awesome manga news. During the event, they rattled off a few newly-obtained manga licenses and dates when you can expect these titles to be available. The Secret Notes of Lady Kanoko is currently slated for January of 2011 and the Hekikai no AiON, Lives, and Puzzle+ titles are all set for a February 2011 release date.
You can also expect more releases for manga the company is already publishing this fall, such as Chibi Vampire and Witch of Artemis in Septemeber, Hetalia Axis Powers in October, and Saving Lie at some point in November. On the light novel front, we heard promises for updates to both Full Metal Panic and .hack.
Unsurprisingly, Tokyopop also gave attendees a bit more information on this whole 'America's Greatest Otaku' event they're cooking up. We reported on it a while back in iStalk, but for those of you who don't remember, it's supposed to be a documentary-reality TV hybrid focused on anime and manga fans in the US. There will be 8 episodes to this series, during which some bigwigs from Tokyopop and a handful of interns drive a bus around the country to meet some of the most 'interesting' fans they can find. If you want to apply to participate in the event or just want to know more about what the heck's going on, check it out on Tokyopop's website.