Posted on Feb 04 2012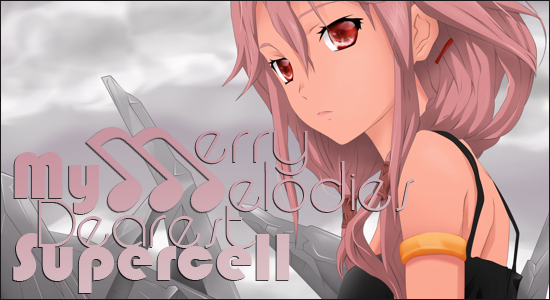 Kicking off what promises to be an awesome month of music, we've got something pretty recent just for you! Jump right into to Guilty Crown!
———————————————————————————————–
I'm guilty, pardon the pun, of not keep up with this particular series. I love what I've seen, which I can mostly describe as Code Geass if Code Geass was awesome and the main character wasn't a huge jerk. It's got a majorly epic production cast, not the least of which is Supercell. Known through most of the mainstream anime world as an awesome composer, every bit of music in this series is absolutely beautiful. The opening is no exception, and is what hooked me to watching and will keep me watching even after it swaps out. It draws you in with the quick line of Engrish, and then becomes epic. The whole song feels like an orchestral performance, building up to the final crescendo. Not knowing a single thing about music, it's very interesting thing to hear, and I love the whole thing.
Like I said before, there's a lot of build up to the song. It starts off nice and slow, but gets so much more intense. I'm not sure why I keep telling you about it, you can hear it for yourself. Anyone familiar with Supercell knows they also mess around with some Vocaloid stuff, but this is actually the first time I've heard anything associated with them with actual performed vocals. Whoever is singing this song has an absolutely beautiful voice.
A nice thing about the animation for My Dearest is that is shows you a lot, with actually ruining too much. I've seen too many spoiler openings over the years, but this one does a nice of job at telling everything and nothing. Which of these are the main fighters? Who's the bad guy? Why is there a Gundam? None of these are given away, and require you to watch the series to know, which is something that most openings should do. They're supposed to hook you, not tell you everything before you're ready to know it.
———————————————————————————————–
QUESTION TIME! What's your favorite thing about the opening? Be it the song, singer or the entire thing all at once because you can't decide, let me know!
–
Wanna see how cool Guilty Crown is for yourself? Lucky for you I have it linked right here!