Posted on Aug 08 2011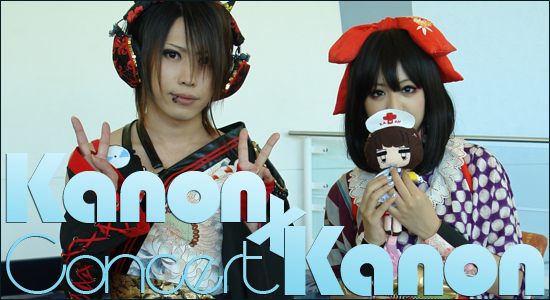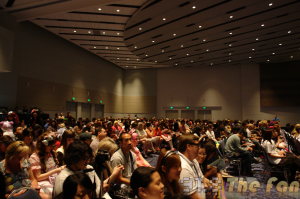 Filing into the concert hall with my crew made it very apparent that I wasn't the only fan that was eagerly anticipating the arrival of the young starlet Kanon Wakeshima. By the time we made our arrival the room was filled completely with the cellist's devotees. While Drunken Shadow, Kibs, and I (Kana) settled many admirers were eying Nanachie-san, Kanon-chan's red cello, which was sitting upon the stage on its lonesome. For those curious she has four known cellos with a different name and color. Her white one is the most common one to find during lives and is entitled Mikazuki-san. While Yaeharu-san is the eldest of the bunch as Kanon has had the brown instrument since middle school. She also has a silver cello dubbed Momotose which I haven't seen very often myself besides in her Lolitawork Libretto video.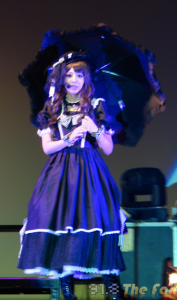 Seeing Nanachie-san in person is a wonderful sight considering it's usually used for music videos, and many followers were fascinated. Quite a few tried to snap a shot, but security quickly asked people not to since only press was allowed to take pictures at this time. We were asked specifically to take pictures without flash as not to be a nuisance and for the performer's safety.
It was merely a few moments later before the lights went out and a roar sprang from the crowd. Appearing from the right part of the stage was Kanon with a frilly umbrella and a wide smile as she waved to the audience. The garment she was wearing was the same as the black dress on both the special edition cover and normal edition cover of her album Lolitawork Libretto ~Lolitawork Libretto~. The spectators were immediately immersed as the opening chords for Still Doll began to play. This was the very first time any of us would be hearing Kanon Wakeshima's vocals, and without missing a beat they were gracefully haunting.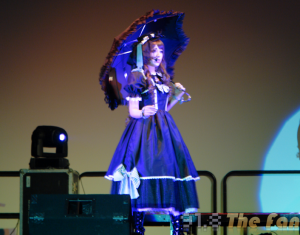 This starlet didn't need a warm-up, her tone mystifying and enchanting from the moment she began.
This was all brought full circle as she moved around the stage, every adjustment of her body carefully placed to match that of a doll herself. Even as she settled in a chair and placed Nanachie-san within her arms it was a thoughtfully made undertaking. As she began to play I was left breathless, the girl just oozes refined talent. Kanon-chan comes off as a very gentle individual, but the strength at which she plays is both surprising and refreshing.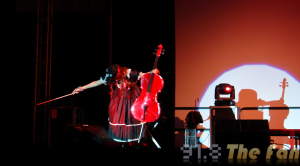 Her fingertips would literally dance harshly against the instrument, but she would slip into a soft voice flawlessly every time.
Next up was Valley Of Fruits which is a high-paced song with powerful strings.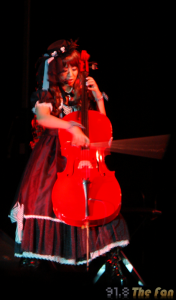 It began with her playing once again; her voice reverberated out with a more powerful force, but still held that tender quality. It was a nice way to pump up the audience since she had quite a few longer notes in this song.
At this point Kanon paused and stood in the middle of the stage, welcoming all the people who had decided to show up to the concert. She asked if everyone was having fun and where her fans thought she should visit. There were screams of Disneyland and restaurants, to which she replied, "What should I eat?" The replies were more mixed this time, but it was apparent many attendees wanted her to taste what America was famous for, hamburgers. She later said in her personal blog that it must be akin to what sushi represents in Japan. She had one or two pauses in English, but everyone seemed to appreciate her effort since she received many happy cheers.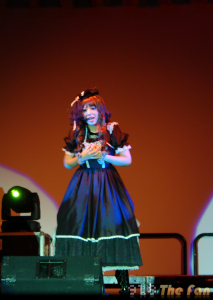 After her speech was Sand Castle which had Kanon-chan moving onto her knees carefully and singing up towards the sky. As she lifted she extended her arms to emphasize her words, moving back to her cello to play it in-between sentences. The song itself is somewhat melancholy with whispers that play in the background and it was stressed as the idol placed her hands in a praying motion in front of her. Lolitawork Libretto ~Storytelling By Solita~ started up next to fans instantly recognizing it, which was no surprise considering it was her title track off the album. The lights had a fair amount of impact on this certain song since they changed in tint to more purples and blues from what I remember. It made it very interesting and matched with the sort of cooler sound.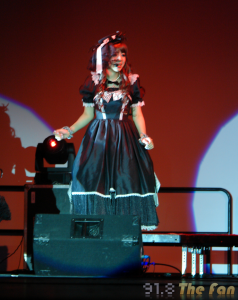 For Marmalade Star she used a star tambourine to get the crowd to clap along. It was a cute touch to a more bouncy song. She moved with the beat here and swayed as a hint to get the fans clapping properly to the melody. It was a little uplifting to see her spin across the stage as she sat down to play the cello and left it again. Kanon Wakeshima's music is very distinctive and it was nice to hear different tones from lingering to merry. This trend continued with Princess Charleston which I knew immediately. I won't lie when I say it's one of my favorite songs because it's so quirky and adorable. It appeared as if Kanon-chan was enjoying herself more as well with a bright smile and an active energy on stage. This was the last song Kanon-chan sang on her own, leaving the stage with her umbrella and waving much like she had appeared. There was certainly quite a few, "Aww"s that left the crowd as she took her leave, but it quickly quelled as a video began to play on screen.
We were greeted by Kanon X Kanon's 2.5 multi-dimensional mascots who appear on the cover of The Way Of Love (or Koi No Doutei). They also are little dolls that Kanon-chan and Kanon-san carried around during the convention. The video began to instruct the audience on "otagei", which is a series of different ways to wave a glow stick in this case. The trick is matching the movements of the glow stick with the beats of the song, but the Kanon X Kanon mascots brought in a friend called Mr. Alien to help the confused minds in the crowd. I have a pretty good feeling that Mr. Alien and Kanon-san are good friends, I wonder why…
When the video was over Kanon X Kanon took the stage to a barrage of applause since this was their first time preforming together anywhere.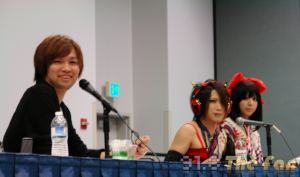 Kanon Wakeshima had managed to change quickly in her kimono based outfit that appears in the Calendula Requiem music video. Male Kanon was also in his black ensemble with golden trims. During their panel the day beforehand they had both talked about their favorite aspects of their outfits. Kanon-chan had said she loved that the ribbons in the back formed a heart, while Kanon-san liked the bird on his outfit because it looked like it was moving. I mention this because that latter point foreshadows how much a certain someone does love to dance on stage.
Supporters were obviously eager by their appearance that many of them stood and began waving their glow sticks before the proper time.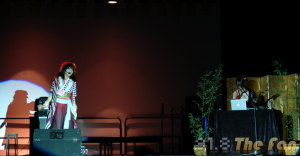 Calendula Requiem, the second opening to Shiki, got people in high spirits for the second half of the show. In my opinion I've always felt the song was somewhat demanding on Kanon-chan's vocals, but it was amazing how flawlessly she pulled off the performance. Kanon-san's playing was also a nice treat because the two fit together and reflected the other very well. They are a pretty seamless duo without any cause for concern that one might dwarf the other.
In a moment of slight unexpectedness The Doll House began with both performers standing parallel to one another. The two began a para-para like dance to the melody, which was eccentric but charming. They matched each other's sync effortlessly, and ended facing away from each other in a stoic type of pose.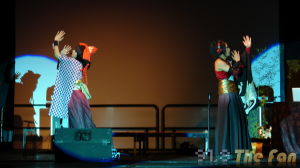 Romantic Suggestion, the b-side to their latest release, was up next and both Kanons' resumed their role. Kanon-san was situated behind a table of sorts with a few panels behind him. Here he had a laptop and seemed to be controlling some of the sounds during the song, I can't be sure in all actuality, but that's what it looked like.
Before I knew it however Kanon-san was gone! I had been taking pictures the entire performance, and nudged Kibs to ask him where he went since I must have missed it. In response, he shrugged and didn't have an answer so we were both left wondering where one half of Kanon X Kanon had disappeared to. Kanon Wakeshima quickly began to speak telling the fans that they had a special sort of routine up next. Curiously she mentioned on Facebook the two had asked what people's favorite anime songs were, and that they had decided to sing the one with the most requests.
A familiar guitar rift and a sound of sparkles could be heard, and I swear I have never jumped up so fast. The chords I grew up with were playing and Kanon-chan was singing the very first line to Sailor Moon's Moonlight Legend. In the next instant Kanon-san had amazingly re-appeared with a top hat, pointed mask, flowing cape, and several roses. I wasn't the only one to go wild either, this treat was well received as more than half the room stood in approval with roars of cheers. Tuxedo Kanon ran up and down the long catwalk connected to the stage, taking the roses he had and dancing to the song with them gleefully. He made dramatic poses with the cape, which matched the feeling of Tuxedo Mask appearing so suddenly in each episode. I say this in the most respectful way, but Tuxedo Kanon was very good at hamming up his role. He was met with higher-pitched catcalls as he began to throw the roses out into the audience. As the song ended he took another pose while Kanon-chan seemed to be unable to hold a giggle.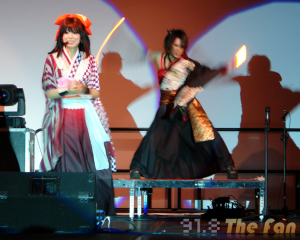 At this instance Kanon-chan announced this would be their very last song, and the response was a mixture of sadness, but gratefulness as well to the duo for giving us such a wonderful show. The concert itself had already traveled through so many different tones, and many people had obviously discovered a new-found love for both Kanons. The Way Of Love kicked in with Kanon-san breaking his glow sticks to signify this was the "otagei" moment we were all waiting for! As Kanon-chan sang sweetly Kanon-san was essentially rocking out with his killer dance moves in the back. The contrast was startling, but it was all good fun and made the pair seem well-balanced. The audience tried their best to keep up with varying results (we're good at clapping and not much else). The concert came to a climax as Kanon-chan began to throw pink shaded glow sticks into the crowd, a counter to the roses Kanon-san had thrown just a song earlier.
The two left the stage to fans standing and cheering. The lights quickly turned on however and so did the drive for an encore; regardless, the display had definitely been one to remember. I fell madly in love with Kanon Wakeshima all over again since I was fan previously, and I had learned to appreciate Kanon X Kanon's partnership. The two just outright work well together and fit in so many ways. While Kanon-chan appears somewhat shy to converse with Kanon-san seems to adore the spotlight. While Kanon-san is a wonderful producer Kanon-chan can match his work with an impressive voice. Outright the pair is a great collaboration and seeing them together on stage was an honor if I had ever known one. I believe like many who attended I would love to see these two back in the United States for another performance.
Thank you AM², Chase Wang, and Sony Music Japan for the opportunity to see these two preform live as well as giving us a chance to interview them. We'd also like to thank Kanon X Kanon for visiting their fans in the United States. Stay tuned for more coverage from the event and for higher resolution photos keep your eyes peeled for our AM² gallery!