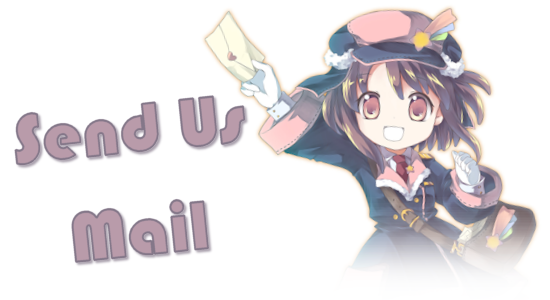 There are many different ways to contact 91.8 The Fan. We would like to note that we read every comment posted on the site as well as actively attend to the forums, but if you have a direct question that does not fit in these sections then please contact us using the proper form below. We will get back to all inquiries as soon as possible though it should be noted your question might have already been answered on our
FAQ
page.
This message will be delivered to both Kanashimi and Kibs, the owners of 91.8 The Fan. This is for serious inquiries only.

Please send serious inquiries only. This means sponsorship, advertising with us, appearances, etc.

If you're having trouble becoming a Fanatic, have more questions on the service, or any other problems then feel free to contact us.

Anything involving our forums should be sent here; you can also send a PM to our administrator on said forums.

If you have any general questions that don't fit into other category then please message us here.

This e-mail goes directly to our Guest Relations Manager. This is for inquiries about interest in being a guest on the show.