Posted on May 04 2011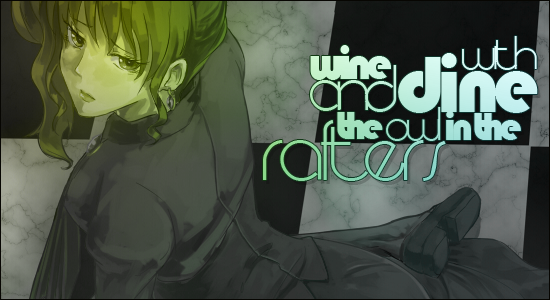 Hello, and welcome back to The Owl in the Rafters! For those of you who know me already, you realize by now that I'm a bit of a Bleach fan. So, while not exactly a surprise with the way it has been going, many Bleach fans were saddened to know that it was recently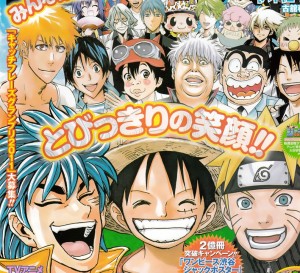 unofficially replaced in the ranks of the Weekly JUMP's informal crown holders, dubbed "The Big Three". Formally comprised of One Piece, Naruto, and Bleach as the three best selling of JUMP's current running shonen titles, in a recent cover of JUMP, Bleach's front row seat was taken by the series Toriko; with Kurosaki Ichigo's mugshot bumped back into second row seating with Mashiro Moritaka of Bakuman, Fujisaka Yusuke of Sketdance, Sakata Gintoki of Gintama, Ryoutsu Kankichi of the long-running Kochikame, and Oga Tatsumi of Beelzebub.
Toriko has been a hot title as of the past few years, seeing a quick rise to fame as a hit shonen title. The animated series just started running in Japan in April, and the manga has been running in the Weekly JUMP since 2008. Viz Media picked Toriko up officially in 2009 and premiered the first chapters in the English Shounen Jump magazine in the February 2010 issue. Viz has of course been working on translating the full volumes since and has released four of the fifteen volumes published in Japan to date.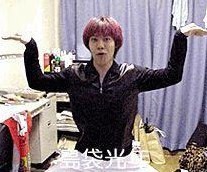 Toriko's author, Shimabukuro Mitsutoshi, was once the winner of the 1996 Akatsuka Award for best new comic writer, and while not a name particularly well known outside of Japan his 1997 series Seikimatsu Leader den Takeshi! (literally: "The Tale of the Leader at the End of the Century, Takeshi!") saw moderate success as a comedy series with a total of 24 original volumes and a number of reprints. Shimabukuro's first big series was ended in 2002 however, when his arrest and conviction on charges of violating child prostitution laws forced Shueisha to cut his contract and cancel the series.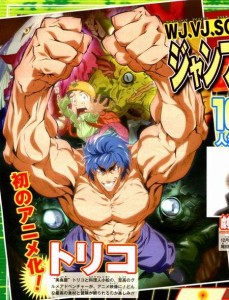 Despite this high hurdle in his career, Shimabukuro was released and went right back to work with Shueisha, in spite of his criminal record, and began publishing Toriko in '08. The story follows a Gourmet Hunter, called Toriko and his flighty chef sidekick as they embark on Toriko's quest to hunt down the most delicious, exotic, and most often dangerous fruits, vegetables, and meats in the world to make a full course dinner menu of only the most succulent dishes in existence. Shimabukuro is known to be close personal friends with Oda Eiichiro, author/artist of One Piece, and his sense of style when it comes to writing the adventure element of Toriko is remarkably similar to Oda's. The story takes place in a world where the planet can be broadly divided up into 2 categories, the Human World where people live and prosper that takes up a mere third of the planet, and the Gourmet World, where bizarre plants and animals thrive in the wild that amounts to more that twice the territory of the Human World.
Toriko's job as a Gourmet Hunter is to take on commission work for various wealthy employers to retrieve from the heart of the Gourmet World, the kinds of ingredients that no normal human could ever hope to lay their hands on. To do this, Toriko must explore the various exotic terrains that make up the vast Gourmet World, while fighting off all kinds of strange and mysterious monsters with bare hands, using his own unique fighting style that he has dubbed Fork & Knife. Apart from a similar kind of wide open-world adventure appeal that Toriko and One Piece share, Toriko plays into a small niche in the anime/manga industry that tends to only see a small handful of titles at a time; the quirky category of Cooking Themed series.
With Toriko establishing the theme for today's article, what I'd like to do is compile a little menu of my own; presenting you with my own selection of food related anime and manga that are guaranteed to make your mouth water and have you begging for seconds. So, I'll give you a small appetizer to start accompanied by a light cocktail as an aperitif to give you a little taste of what we'll be going over before we dive right into the main course.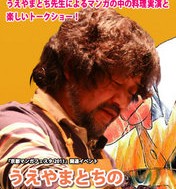 Ueyama Tochi is a little known manga artist outside of Japan, with only one miraculous title to his name. When Ueyama first saw his original serial title, Cooking Papa, run in Kodansha's Weekly Morning magazine in 1984 I don't think he, nor any one else in the manga industry could have foreseen the rookie comic author's smashing success; with a long running serialization, a popular three year (151 episode) long animated series, and a short live-action television adaptation. Sadly, none of which have seen any signs of international release.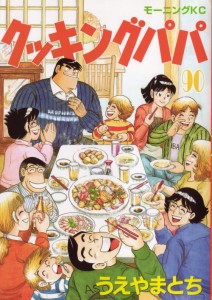 The story follows a successful salaryman, Mr. Araiwa, his wife who works as a journalist, and their family of three children; the eldest son who has left home to attend university in Okinawa, their only daughter, Miyuki, who commutes to elementary school, and their youngest son. As the name would imply, Mr. Araiwa has an interest in cooking when he's not at work and enjoys the time he can spend making his busy wife and growing kids a good healthy meal. One of the major appeals of the series, other than portraying a cheerful and feel good slice-of-life about a man content with his average Japanese lifestyle, was that every little story arc's central dish would have a fully functional recipe included at the end of the chapter. In the twenty seven years that Cooking Papa has been running the series has developed the characters and their own stories, the children have grown up, and a more recent story arc covered Mr. Arawai's eldest son and his fiance getting married.
While Cooking Papa may be a totally unheard of title on the international scene, within Japan it has consistently stayed within the top 50 best selling manga titles for the past nearly thirty years and it is still ongoing, with a current total of 113 volumes as of February 23rd of this year. This puts Cooking Papa just behind Shueisha's 174 volume and running, weekly series, Kochikame; Akita Shoten's never ending baseball series Dokaben; and Shogakukan's world famous action series Golgo 13 as the 4th longest running manga in history.
As I said before, there are no English translations available for the original manga series, nor are there any for the 1992 anime, and strangely none even for the 2008 live-action television series. So, even finding the fairly rare back issues of the original publications and reading them in Japanese isn't much of an option, but as I also said, this is just a little sample of cooking themed manga/anime and the kind of success it has had.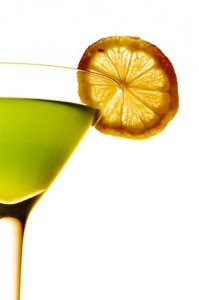 To give you a little more for taste that will help ease you into tonight's meal, I'll offer you a light drink to wet your palette. The name of this next series speaks for itself; Bartender takes us into the busy career of a young but talented bartender named Sasakura Ryuu as he runs his bar, Eden Hall. The original manga series, written by Araki Joh with art by Kenji Nagatomo, ran from 2004 to 2009 in Shueisha's Super JUMP magzine and charmed its readers with a warm inviting kind of atmosphere and a colorful array of intriguing –albeit at times a tad campy– stories behind Eden Hall's customers and the drinks they order, as well as background on Ryuu and his career before opening Eden Hall.
The eleven episode Bartender anime that aired in 2006 took some noticeable liberties with the artistic direction and with certain aspects of the story. While each individual episodic encounter with each of the supporting characters of the early chapters do stay about the same, the relationship between different side characters and the transition between episodes was changed in a way that made the ongoing story less continuous, and broke the ties between certain characters.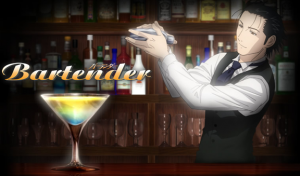 Given that the anime was only afforded an eleven episode season, which is fairly short even by modern standards, I would imagine that the change in story telling was an attempt to prevent the ongoing story from being suddenly cut short at the end of the season, instead opting to make each and every episode a standalone story, so that there was never really a formal starting or stopping point to the story in the first place.
That said, Bartender really is the kind of series you can just pick up and enjoy without much background information. It's a strangely feel-good kind of series that you're likely to find yourself smiling at for no particular reason. Apart from the actual story, each episode's encounter features at least one highlighted cocktail, and at the end of the episode, not only is there a brief recipe card for the featured drink, but the ending credits change to show a live bartender mixing the featured drink of each episode. And last but not least, the original soundtrack to the Bartender anime is a wonderfully soothing 31 track mix of easy listening music peppered with bits of jazz and ragtime here and there for full-bodied character.
The live-action television series of Bartender aired just last year, starring Masaki Aiba of the male pop-idol group, Arashi, as the bartender, Sasakura Ryuu. Masaki was reported to have trained with a professional bartender in preparation for the role. The live action series lasted just eight episodes, running as part of TV Asahi's Friday Night Drama segment.
Moving away from the seinen end of things, I'd like to offer something a little more generic series as a palette cleanser before moving on to the main course. The best palette cleanser for any occasion is of course a good warm dinner bread, so what better title to digest next than Yakitate!! Japan?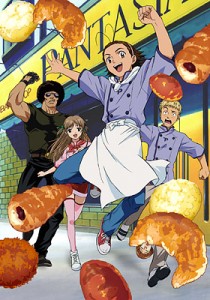 Before I get into the details of the series itself, I'd like to take the time to explain the name. The "Yakitate!!" part is simple enough, it literally means "fresh baked". The "Japan" part is a play on the Japanese word for bread, "pan": a loan word likely from either Spanish (pan), Italian (pane), or French (pain); all of which are derived from the Latin "panis". Therefore the joke is that the word bread is in the name of the country. It might seem a bit of a pointless joke but that's just the outer most crust, so to speak, as the series is riddled with the kinds of entertainingly convoluted puns unique to the Japanese language.
The premise, you see, is that a young boy and generic shounen hero, Azuma Kazuma, loves to bake bread and seeks to create the titular Ja-pan. The reasoning being that every nation has their own definitive type of bread (France has the baguette and the croissant, Germany the Kaiser roll, India has naan, China has bing flatbread, and of course America's infamous Wonder loaf.) but Japan has never had a bread unique to its culture. So, Azuma leaves his rural hometown to become a baker in the heart of Tokyo and learn more about bread in order to perfect his ongoing experimental bread, the titular, Ja-pan.
When I said before that this was a generic series, I didn't mean it in a bad way, and on a stylistic level, this series is anything but common. The plot follows the tried and true path of a shounen battle series, with elaborate baking techniques, over-the-top bread baking competitions, and hilariously overblown reactions to each unique new bread. Each of Azuma's ever evolving Ja-pan breads utilizes a strange new use of existing methods of baking in a way that reflects iconic cultural features of Japan; everything from the simple uses of Japanese ingredients like wasabi or soybeans, or having the bread take on the physical form of icons like Mt. Fuji, sushi, or modern pop-culture icons like Gamera, to laughably convoluted puns and other play-on-word jokes unique to Japanese. The whole series really is a fun quirky twist on the generic shounen formula, taking the bare bones ingredients and cooking up something unexpectedly fresh and different.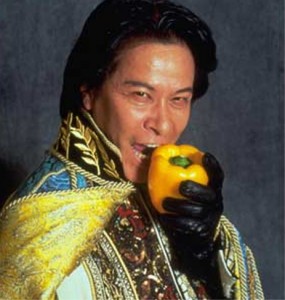 Of course, Yakitate!! Japan is not perfectly unique in the application of the basic battle-manga formula of repeating the "victory-loss-training-power up" cycle while shuffling in new rivals every couple of chapters. The staple battle-manga plot has been used countless times before in shounen series about cooking –a trend mostly inspired by Japan's hit television series, Iron Chef and its use of sensational game-show elements to create a high tension, competitive cooking show– with titles like Iron Wok Jan, Mister Ajikko (aka Born to Cook), Chuuka Ichiban! (aka Cooking Master Boy), but Yakitate! Japan's specific focus on the subject of bread sits it comfortably in a strange niche of the whole cooking-themed category that lets it stand out without much real competition.
The Yakitate!! Japan manga ran for five years, starting in 2002, amassing a total of 26 volumes, and saw a popular, two year (69 episode) long anime series that first aired in '04. The manga was technically licensed for distribution by Viz Media, but has yet to see any actual shelf life, to the best of my knowledge. The anime has also seen no international release, and there appear to be no plans for any at the moment.
I will point out that the anime does fall short of the manga's story line by several story arcs, and so the anime and manga do differ drastically in their endings. Most notably, while the anime stays true to the manga's initial premise as a story about a boy baking bread, not long after where the anime is cut short, the manga begins to suddenly lean into bizarre realms of fantasy and sci-fi as well as resorting to heavier use of gags and general comedic antics.
Moving on to our main course, I'd like to showcase the premier food-themed manga title in Japan, Oishinbo. (lit. "[The] Gourmet") This ongoing manga series is arguably the pinnacle of food related manga and thus the most suitable entree for this dinner menu. Oishinbo is another long running seinen title that has been running since 1983 and is still ongoing. Having risen to popularity during the Gourmet Boom of the '80s, Oishinbo is often credited as one of the key factors –if not in fact the biggest contributing factor– in the rise of "gourmet comics", where characters comment on the intricacies of various dishes in stylistically exaggerated detail.
The story follows Yamaoka Shirou, a cynical and brutally honest journalist, writing a culinary article in a newspaper, as he and his new partner, Kurita Yuuko begin a project to compile the "ultimate menu" as part of the paper's 100th anniversary.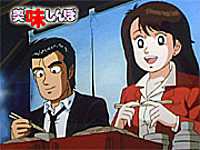 In their ongoing quest for this, they touch upon every major Japanese dish served professionally in the past thirty years, going into in-depth backgrounds of the dishes, their ingredients, and their cultural and/or historical significance. The specific style of drawing somewhat exaggerated levels of reaction and significance out of each and every dish is part of what lent such charm to the series and kept it entertaining and not just a monotonous series of illustrated culinary reviews.
The original anime adaptation of this hit manga ran for roughly four years, a staggeringly long run by modern standards, with a total of 136 episodes plus two animated films following the end of the television series. The anime has not seen any international released, but the manga was released in a limited "best-of" format by Viz Media under the name Oishinbo A la Carte, collecting select chapters into 7 different volumes categorized by key ingredients. To be perfectly clear, that means the Viz publication does not contain the full story, nor does it present the story in any coherent order, instead opting to focus on the food reviews. The seven volumes specifically cover traditional Japanese cuisine in volume 1; sake in volume 2; ramen noodles and gyoza (pot-stickers) in volume 3; fish dishes like sushi and sashimi in volume 4; vegetable dishes in volume 5; rice dishes in volume 6; and Izakaya* food in volume 7.
Sadly, this format not only excludes a large portion of the story — not to mention a good deal of character development including everything that leads to Yamaoka and Yuuko eventually getting married– but also limits the real appeal of the series. As is stands, the Viz publication does actually make a fantastic crash course in Japanese cuisine, but unfortunately by narrowing the selection of dishes down to Japanese specific dishes only, it does lose some of the appeal from the original publication's sheer depth and variety of different dishes covered. Still, the Viz publication of Oishinbo serves as a legitimately functional guide to the most iconic dishes of traditional Japanese cuisine.
*Izakaya are a kind of traditional Japanese liquor shop where customers can purchase single cups of sake before buying whole bottles. To facilitate this, they eventually developed from simple liquor stands into small bars and began serving light snacks meant to complement the sake. They are often compared to European pubs due to similar functions.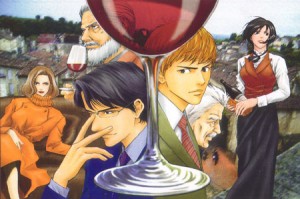 To accompany Oishinbo's more realistic coverage of food –when compared to the many other more stylized gourmet manga that followed suit in light of Oishinbo's success– I'd like to present you with a series that samples fine wine in the same way Oishinbo took a bite out of gourmet cuisine: Kami no Shizuku, (lit. "The Drops of God") alternatively titled Les Gouttes de Dieu.
As an ongoing publication in Kodansha's Weekly Morning since 2004, with 25 volumes released to date, Kami no Shizuku has been translated and released all across a good deal of mainland Asia, including Korea, Hong Kong, and Taiwan, and in 2008 saw the start of a successful publication in France. As of December 2007, the series broke 500,000 copies sold internationally, and actually attracted the attention of wine collectors and connoisseurs world wide as the chief cause of an unexpected jump in fine wine collectors all across mainland Asia. The manga has been licensed by American publisher, Verticle Inc. and the first volume is slated for release this coming September.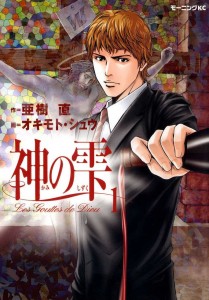 The manga begins when an internationally recognized wine critic dies and decrees in his will that his multi-million dollar collection of rare wines will go to whichever of his two sons can identify the twelve wines he called the "Twelve Apostles" plus a final, thirteenth wine that he dubbed the "Les Gouttes de Dieu". The story follows the eponymous Shizuku, direct son of the late wine critic, Kanzaki Yutaka as he competes against his adopted brother, Toumine Issei.
There is a catch of course, and that is that due to the somewhat eccentric attempts on behalf of his father to breed him into a top rate wine critic, Shizuku actually grew to hate the smell and taste of alcohol and so has grown up knowing absolutely nothing about the finer details of wine tasting, critiquing, and collecting. As a result of his failed attempts at grooming his real son into his protege, the late Yutaka adopted the rival Toumine to take his place.
But while Shizuku lacks all the textbook knowledge that Toumine has studied, his father's elaborate training methods have left Shizuku with an unmatched sense of smell and taste for fine wine. So, with the help of a young sommelier in training, Shinohara Miyabi, Shizuku embarks on the quest to lay claim to his father's last will and testament while leaning the finer points of wine tasting from the ground up.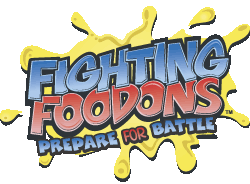 Before we finish off the meal with a little dessert selection, I really can't help but throw in a little dish to fill out the kid's menu. My choice for this is a wacky title some of you may remember from its short lived American run on the Fox Box in the early 2000s; the 26 episode long Fighting Foodons.
As an early product of the now infamous 4kids group, Fighting Foodons was the endearingly corny attempt at localizing the Japanese anime series, Martial Arts Cooking Legend Bistro-Recipe. While popular sentiment might spurn 4kids for their more recent attempts (and failures) at kid-friendly anime localizations, Fighting Foodons was not nearly as rare or under-cooked as you might expect for an early attempt, and in fact I dare say that it was actually quite "well-done"!
Ok, feel free to hate me for that joke, but in all seriousness, all the goofy edits to the script plus the overwhelmingly hammy voice acting just added to the silly charm of the series. The hopelessly catchy theme song, remixed from Jacques Offenbach's operetta, Orpheus in the Underworld certainly didn't hurt either. I'd start with a breakdown of the premise, but I honestly don't think I could do it more justice than the opening narrative itself, so instead I'll quote that;

"It all started some years ago when a culinary-confused king asked a question to his chefs which would be stronger? Tofu surprise or stuffed duck? The king's chefs thought the king had gone a little too heavy on the nutmeg. One mysterious chef knew what the king was talking about and presented him with magical cards called Meal Tickets which turns the food into monsters called Fighting Foodons. Since then, regular food recipes have been turned into Foodons when the art of culinary combat's concocted."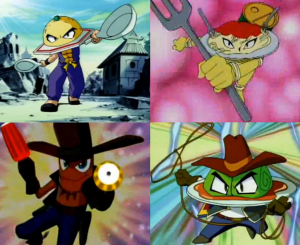 Never mind the fact that the whole show revolved around bringing food to life as giant monsters, kung-fu fighters, gunslinging cowboys, and other stupidly goofy caricatures; the script writers took a little queue from the formula of Pokemon and not only shoe horned a pun into every episode title, but changed all the generic kung-fu birdcalls and monster growls from the Japanese version to a repeating name gimmick like in Pokemon. It might seem like an insignificant little quirk, but what you got as an end result was every episode featuring a fight scene where voice actors would be shouting ridiculous names like Friedricer, Spaghettaboutit, Hotdoggone-it, Frenchy-le-Toast, Squid-Vicious, and Cowboyritto at each other almost nonstop for anything from 3 to 5 minutes at a time. Intentional or not, it was the kind of ridiculous nonsense that I can't help but look back on and smile.
Alright, now finally we've come to the dessert selection that marks the end of this drawn out analogy gingered, similie seasoned, and pun peppered review. I couldn't bring myself to do without a pastry series, and while I had no trouble tracking a few down, I couldn't bring myself to narrow the selection down to just one. Instead I've got a choice between the more sugar sweet, diabetes inducing shoujo title, Yumeiro Patissiere, (lit. "Dream-colored Pastry Chef") and the more adult flavored and bittersweet boy-love title, Anique Bakery.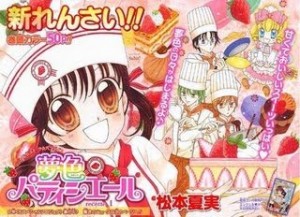 Yumeiro Patissiere is a conventionally light and fluffy shoujo title with a creamy melodrama filled center. The story follows a young teen girl, Amano Ichigo, as she follows in her late grandmother's footsteps in becoming a great patissiere. Naturally her latent potential and radiating specialness is recognized and she's swept up by St. Marie Academy, a prestigious middle school that inexplicably specializes in training little girls into elite pastry chefs. Ichigo meets new friends and rivals at St. Marie while she hones her skills with the help of the Sweets Spirits, the magical protectors and fulfillers of dreams.
The manga is an ongoing 2008 publication with 8 volumes released to date. The story actually skips ahead a few years at one point, fast forwarding past Ichigo's two year trip to study in Paris, to when Ichigo has returned to Japan as a professional patisserie, neatly breaking the animated adaptation into the 50 episode original series and the 13 episode second season, Yumeiro Patissiere SP Professional.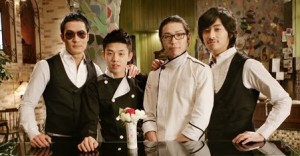 Antique Bakery reaches out to a different end of the shoujo demographic with a host of pretty boy characters working at the titular antique bakery: there is Tachibana "Keiichiro" Keisuke, the French speaking owner and waiter at the bakery, son of a rich family, and traumatized victim of a kidnapping when he was young that left him with a particular dislike of sweets and reoccurring nightmares of his mysterious cake-loving abductor. Next is Ono Yuusuke, childhood friend of the bakery owner, Keisuke, and infamous gynophobic pastry chef known for skill and more notoriously for his "Demonic Charm" that allows him to seduce all men, regardless of prior sexual orientation. Then there is Kanda Eiji, Ono's apprentice patissiere and former street thug turned boxer. And then finally there is, Kobayakawa Chikage, the shy, klutzy, childhood friend of the owner, waiter at the bakery, and son of a family of servants in the Tachibana house.
The amorphous love polygon between the four men working at the bakery doesn't really develop throughout the story so much as it just kind of wobbles like some ostentatious jello mold before returning to status quo after every convoluted jiggle. The 4 volume long manga series was released in English by Digital Manga Publishing, and the 12 episode anime adaptation was just recently released on DVD by Nozomi Entertainment with English subtitles but no dubs. The 11 episode live-action drama has yet to see any signs of an English release. There is also a Korean live-action movie, simply titled Antique which relocates the story to Korea, and so naturally substitutes all character names for Korean alternatives, but otherwise follows the same plot and premise as the source material.
I hope you've enjoyed this brief but tantalizing trip through the exotic category of gourmet and cooking-themed manga. With any luck at least one title out of the menu I've collected for you today has given you something to chew on, and now that you've had a taste of what unique food related manga and anime titles are out there, I hope you'll look into some of the titles I've mentioned here for yourself and expand your palette as an anime connoisseur! (Ok, that's enough food jokes. It's over now, I promise.)


For your added food related entertainment, I leave you with this image and a link to Foodporndaily.com. Rest assured it as not "porn" in the literal sense, and all content is perfectly work-safe.